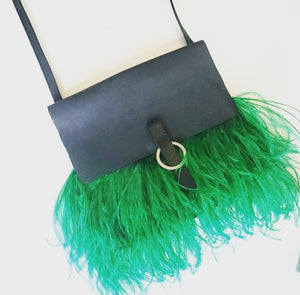 Emerald Green 
The gorgeous Lola handbag is made with ostrich feathers on a suede leather base. The flap has an Ostrich shin tab detail to open.  The bag has an adjustable sling and a back body zip.  Large  enough for everyday use, fabulous enough for special occasions.
The Lola is full suede leather and has 2 inside pockets and one zipper pocket on the back.  The Flap closes with a magnet.
Dimensions -  9.5" x 9.5"

All our  Feathers are obtained from legal suppliers and tanned to international specifications as set by the European Union. Azo dyes and Chromium content are regulated, and our tanners have environmental certifications.