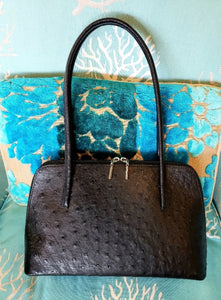 High End Ostrich Leather Handbag. Gorgeous Black Genuine Ostrich leather handbag. Small enough to be super elegant, but big enough to hold everything you need. Excellent craftsmanship and rigid structure with protective metal feet and zip-closure. Cell-phone pocket and one zip-up pocket inside. 
14x8 inches. strap length 25 inches. Ostrich is a luxurious leather well known for its suppleness, flexibility and durability. In spite of its softness, Ostrich leather is unsurpassed for its tactile strength, it is one of the strongest leathers available. Naturally occurring oils in the leather contribute to its durability, preventing cracking, even under extreme temperatures and sun exposure. The unique and exclusive quill pattern gives ostrich leather the distinguished look that is so sought after.
All handmade in South Africa using Fair Trade principles. Feathers, leathers, and hides are all sustainably farmed and ethically processed.