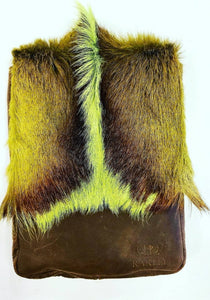 The Mini Postman, Based on the design of the traditional foraging bag of the indigenous San people of Namibia, and resized to a mini size. The Mini Postman crossbody/shoulder has an adjustable sling. The body is full bovine leather, with a springbok hide accent flap.
Dress this stunning and unique handbag up or down, it's looks great either way!  Each handbag is unique, no 2 are alike. 
Interior - The Mini Postman, fully lined with an open mobile pocket.
Closure - The flap closes the bag, but to keep with the tradition of the design, this is not a magnetic closure.
About Springbok leather.
Springbok is a Natural resource, found in abundance in Africa. Springbok animals roam freely on farms in Africa, but due to the limited natural resources in most areas, the Springbok population needs to be controlled via animal control programs. All our animals are obtained from legal suppliers, and tanned to international specifications as set by the European Union. Azo dyes and Chromium content are regulated, and our tanners have environmental certifications.
About our Manufacturing process.
We agree with and practice the ten principles of Fair Trade as outlined by the Fair Trade governing body.
Care instructions.
Leather should be kept dry, free of waters, oils and products.
Prolonged exposure to direct sunlight or florescent lite may alter the colour of the leather.
Gently wipe the springbok hide with a damp cloth, if needed.
Abrasive use may cause hair loss and damage the leather.
Store by hanging the bag in a cool dark setting, or placing the bag.